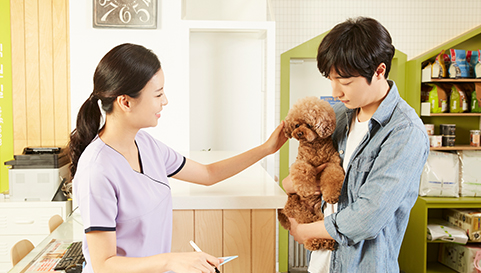 Faculty of Business and Fine Art


Dept. of Pet Total Care
Homepage
The changes in family structure, such as the nuclear family and the increase in the elderly population, and the improvement in quality of life have increased the demand for pets, and the pet industry is rapidly developing every year. We teach pet medicine major, pet beauty major, and animal care major in order to train pet expert who treats animals with love, places importance on the dignity of life and has professional knowledge and ability.
Obtainable certificates
pet stylist
Animal Care Workers
Animal manager
Handler
Trainer
Experimental animal engineer
Pet Funeral Coordinator
The field of business/employment
Aqua-land, zoo farmer, trainer, feed company, livestock industry, laboratory animal industry, biotechnology industry, laboratory animal keeper of the university research institute, pet beautician, animal hospital, handler, breeder, pet training facility, pet shop establishment, Going to college and studying abroad, Customs Service pet detection center, Nonghyup, coronary bird company, Internet pet shopping mall establishment, animal drug companies, other pet related companies.